Discover more from porochistatimes
the substack formerly known as sicker/sickest (2019-2021), now about way more stuff than illness but it was always kind of like that? anyway hi, 2023!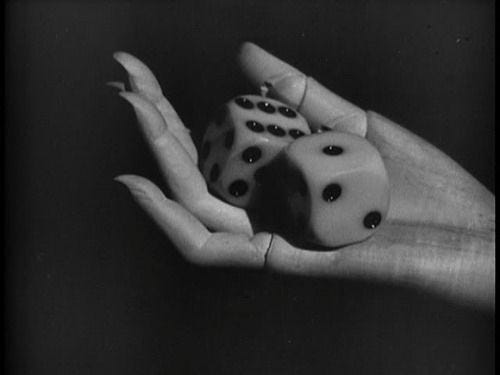 [from Man Ray's Les Mystères du Château du Dé]
Oh hello.
This is the first time I have taken a real break here and I think I won't do it again because every day I basically thought, I should write in my Substack. The temptation was there but time. . . time was weird. First of all, I was wrapping up a book tour and then I was just also feeling off. It felt like COVID, then allergies, then COVID again, then oh-no Lyme again, nope prob COVID, and then who knows. I am heading into my second week now of waiting for my test results so we shall see (my roommate and I braved the City MD line one afternoon, just a few blocks from where we live, an experience of two hours altogether, made good only because we treated ourselves to frozen margaritas afterwards, as if this first true outing out was a celebration or something).
I am now almost exactly four months into lockdown, four months since I landed back in the US from Europe. Not much has changed. The baking is starting to wear on me though I made a cherry vanilla cake today—I had decided after an immaculate carrot cake and a pretty amazing ginger pie with maple frosting that it might be time to take a break, but like returning to my Substack today, I decided I wanted another fling with the oven. Have I mentioned it is now summer and so hot? NYC feels like a wet diaper as it often does in summer, my least favorite season here, and so hanging out in a hot kitchen feels like pure masochism, but hey have some cake. . .
I continue to take walks, two miles most days, down Forest Hill's Yellowstone Avenue and sometimes past Station Square down 71st to where the Tudor mansions are. The neighborhood was fully of cherry blossoms in spring and now it's hydrangeas. (Oh, I have taken up botanical drawing—I bought Prismacolor colored pencils like I had when I was a kid and sketching paper! I listen to Mort Garson's Plantasia and I draw away. I think I was inspired after ordering flowers with every food delivery. It really does bring me peace). The building dog run is back up and so sometimes we go there and sometimes we just take the walks. Cosmo continues to bark at the kids on scooters, we continue to see beautiful chalk art with messages about the pandemic and now messages about BLM and the protests.
I continue to spend too much time on Twitter, where every day we cancel some new person, make some jokes, read some news—but the whole experience has started to feel like flat soda. Everything is less than it used to be and yet we are used to it.
The book tour came and went, and went well—it started with a big audience with Elif Batuman and Books Are Magic and it ended with a big audience with Kiese Laymon and Square Books. The tour was as successful as you could expect during a pandemic. I mean, how would I know what it would have been like? The book got four pre-pub starred reviews, pretty unheard of. It didn't really get any bad reviews. All this is so new to me. I am still doing some interviews though they are getting repetitive so maybe time to stop.
A few weeks ago someone in Japan interviewed me, well into midnight my time. She wanted to talk about the book but I wanted to talk about moving to Asia. This is the only thought keeping me going, this other future, this new chance, this one more shot in a lifetime of one more shots. I can never settle down, this I finally accept. I've been in upheaval since a young child, refugee kid, no home is ever the real home. But no one really questions this choice now. I've been saying the American Empire is crumbling for decades now but only now do people finally agree. I still have not figured it out but I know by next year I have to be there somehow.
I am ghostwriting something I can't tell you about. Still dreaming of writing a children's book and a screenplay and going back to music journalism. What I should be doing is working on my fifth book, that novel I owe, but somehow writing fiction these days feels so very impossible. Whatever these conditions are, they are the wrong ones for creating art.
It turns out having all the time in the world is not actually what would create art. It's not the quantity, as we all say, but the quality. And out mindset, all our mindsets, just feel off. Everything feels fragile and heavy at once, cracking and yet cast in cement, as shivering as it is still.
I try to self-care in funny ways. I am mortified at losing the little money I have and yet I know retail pleasures are a real thing, so I buy the cheapest things I can find online, and when they come in their mysterious brown boxes, I never remember what I ordered. Chinese milk candies, socks, vitamins, a face serum, soap, dried fruit, honeycomb, lipstick, nail polish. I buy press-on nails that look like sea glass and make an appointment to dye my hair white-blonde again (in one week, my first outing to Manhattan in five months!) I want to feel new, to feel excited, to still feel like I can control who I am and how I feel.
I have wasted much more of my life than this, than these months. I have wasted years, thanks to drugs and thanks to illness. I have spent much longer periods locked down in far worse limbo. I should be a pro, I should be.
I don't hear the ambulances like I did a few weeks ago all the time. I don't hear the protestors as they'd make their way down Queens Boulevard. I don't hear the fireworks that haunted our city well before and a bit after Fourth of July, for reasons we don't all understand yet.
I taught a class this week and will teach another tomorrow and in a bit over a month another class will start and then another. Teaching is now sitting cross-legged on my bed, Cosmo curled up beside me, sipping at a matcha tea, as I stare into a screen full of people from all over the place. It's good actually. It helps me remember I exist.
I can't say I am depressed but I can't say I am not. No one I know has ever gone through a thing like this, a collective experience like this, a crisis that concerned not just them and theirs but all the thems and theirs. Old students, friends, family, people I barely know, they ask me what I think will happen and I ask them the same. We don't know, that's all we know.
I don't remember so many months of this year. What I do remember well is March: speedwalking through the streets of Paris's Montmartre both hot and cold bundled in my gold puffy coat on a weekday afternoon; stopping for a flat white in my friend's neighborhood in London's Bethnal Green; the way the light looked and wind felt those first days of March in Edinburgh; listening to the news from Italy and China and even Iran and imagining it would blow over soon. . .
I don't have the imagination to grasp the number of casualties. For months, then years, after 9/11 I tried so hard to imagine the 3000 our city lost in those towers but even that was too much. We never got over that.
I found myself reading about the Titanic today, something I had not done in ages. As I child I was fascinated by shipwrecks but I had overdone my research so much that for decades after I did not care at all. But today I read about the items they recovered when they found the wreckage nearly 70 years later. White lacy gloves, a watch, fur coats, keys, a violin. What moved me the most was a menu of their final meal—the cold meat buffets, the roasted vegetables, the soups, the custard and apple meringue pastries. I haven't cried in ages, but this list of items made me cry. The paraphernalia of our existences, justification for our hauntings, these points from which nothing can be the same no different than any other points if we are to be absolutely honest, anything larger or deeper the work of a god built out of the loose wiring of our cheap collective dreams.
The only hope seems to be what a very old lady once told me—an old lady I was sitting next to in an IV ward at our doctor's—that you never know more like they tell you but as you get older you just care less about knowing more. We care so much for so many years, but maybe all time is there to show us that there are no lessons, no satisfying arcs. Someone will find written evidence of your last meal maybe at the bottom of the ocean, but it will be entirely on them to sculpt a feeling out of that. We live in the realm of endless emotional excavation and incessant psychological sleuthing—let's hope the other world's great mercy for us is finding our psyches utterly unknowable.
Okay, more soon. Less philosophizing, some concrete essay-type things and hopefully helpful columns. But for now, I felt I owed you my mindset. It has been a weird time, I am guessing and yet I am sure you agree.