Discover more from porochistatimes
the substack formerly known as sicker/sickest (2019-2021), now about way more stuff than illness but it was always kind of like that? anyway hi, 2023!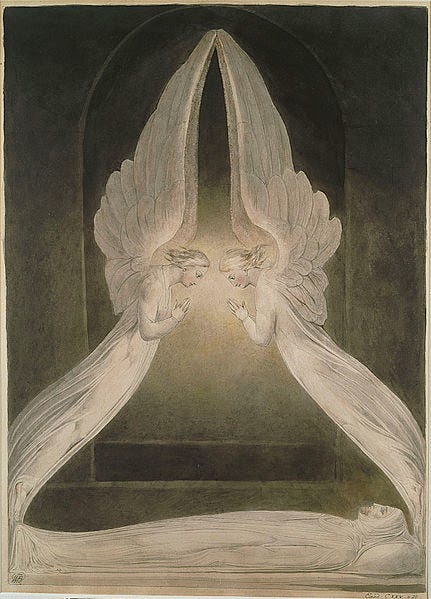 [William Blake, Christ in the Sepulchre, Guarded by Angels]
I remember when I learned Gandhi was not the good guy I thought he was. I was dating an ex-Hare Krishna monk at 30 and he had all sorts of horror stories about his time with the Krishnas. But one time he caught me making a very cliche Gandhi reference and he immediately shot back that Gandhi was a pervert who took advantage of his power, did I know that he slept next to two young young women to test his celibacy? I was horrified. I did not know. It was like when I hit middle school and was told the truth about Columbus: not a good guy, no matter how hard my elementary school just a mile away had taught me and probably still taught little kids.
You accept these moments as "coming of age," once you realize coming of age is a constant process, and not synonymous with young adult at all. Coming of age just really means coming to terms with so many layers of truth, watching the mask peel off of so many convenient lies that coated our pasts.
Nothing today feels that revelatory to me. Our nation is in the midst of an awakening while many of us have been awake for a while. But still it feels like something to see some of the worst old politicians holding BLACK LIVES MATTER banners, to see old white people slowly chanting along, to see some of the most resistant understand what was behind our grievances. It has taken so many Black deaths for this awakening so it feels very bittersweet. Gianna Floyd, at age 6, should not have to say "Daddy changed the world" while grieving the murder of her father, we should not be cheering for optimism borne out of the most grim trauma.
The New York Times ran an editorial by US senator Tom Cotton—a politician most of us Iranians have known is evil for a long time, as he has always been an advocate of the most violent means directed at the Iranian government in the name of regime change—which expanded on his belief that the US military should be used to support police and fight back against Black Lives Matter protests. "Send in the Troops," the headline sang in the NYT Opinion pages—the pages where my essays for years appeared, what arguably made me an essayist, what made my recent essay collection notable in the first place—and after we all expressed our outrage, NYT staffers tweeted that the editorial put the lives of Black staffers in danger. In just a few days, James Bennet, the editorial page editor, resigned after it became clear he had never read the editorial and that it indeed violated Times standards.
Protest and speaking up seems to be working, we are all realizing, much more than the don't boo, vote our previous president tried to elegantly urge. But we can't afford that sort of elegance anymore—maybe we never could.
Not a single person I know is on Team Cotton or Team NYT or Team Feds or Team Racist Cops these days. Our opinions are aligned for once. As someone who has often been on the fringe, whose voice has always been called too loud, who used to cause nervous glances from colleagues, who would provoke exhausted sighs from family and sometimes friends when speaking about politics—as someone like this, it is a major change. Suddenly the word alliance is one my tongue more than ever, its meaning gleaming in a way it never had for me before. The word consensus even dares come into the picture sometimes these days.
When I was in grad school in the years just after 9/11, it was trendy for my classmates to talk of "moral fiction." They would bring up Henry James a lot, and sometimes Plato and Aristotle. At that point, my education was still limited. I stayed silent. But they weaponized "moral fiction" against many of us. I wrote a story about a suicidal young woman and my classmates brought up morality to which I stared at them blankly. I wrote about rape, and same thing. I started to question things. I read John Gardner's mostly stale and suspect rants on "moral fiction" but occasionally I hit a section that reached deep into my soul, like "Art begins in a wound, an imperfection--a wound inherent in the nature of life itself--and is an attempt either to live with the wound or heal it. It is the pain of the wound which impels the artist to do his work, and the universality of woundedness in the human condition which makes the work of art significant as medicine or distraction." In the years to come, as I began to teach, I started to ask students, what is your world view, what are your themes, what value do you bring to this planet as an artist, what are the causes you would die for. They were often questions I myself could not answer, but felt content with them swirling around in my psyche.
We know murder is evil. We know bigotry is wrong. We know love should lead us. We know those things, and yet.
This weekend, for reasons few of us can understand, author JK Rowling took to twitter to once again assert her TERF status, with a series of transphobic tweets. Again, me and those I follow and those who follow me, were aligned in our disdain at her perspective. No one called denying trans people "immoral," but I would say we would be aboard for that interpretation. We joke about "cancel culture" and those who love to misunderstand it classify it as a "morality policing" but what is it but a brazen acknowledgment, uttered and echoed, that we in our culture in this day and age can agree on certain elements of progress and that we do not accept any steps backwards. As we know, very few people—but sadly some of the most powerful—are nostalgic for the past. For most of us the word past is best paired with mistake.
So we carry on. The virus is still killing people. People are still out protesting. Our lives are both on hold and progressing. We know soon someone else we love will disappoint us and we will step away. We know once again we will find comfort in strangers who are chanting the same chants. We know that there is a collective and that collective has sculpted a morality. We know somehow, in spite of a million divisions over and over, it is in us to belong. And belong to a truth that for once might be good.